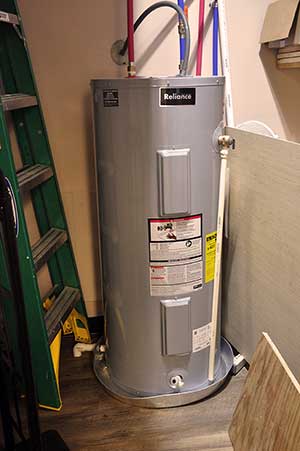 After nine long weeks of reconstruction, the Perry County Public Library in Linden reopened on Tuesday, February 9th with new floors, carpeting, paint, and insulation. The community had been patiently waiting to visit their library, and the library staff had missed everyone.
We are grateful to County Mayor John Carroll and Sheriff Nick Weems for their unwavering support during this challenging time of repair and reconstruction. Mayor Carroll provided guidance to Librarian Dale Miller, who supervised a construction crew of jail trusties supplied by Sheriff Weems. Mayor Carroll also arranged for the library to safely store all of the books and furnishings in the Community Center. Special thanks to Denise Head for keeping an eye on the library's belongings.
The hard-working crew of trusties and Supervisor Dale Miller removed everything from the library, and took it to the Community Center for storage. Back at the empty library, they removed wet carpet, damaged drywall and subfloor, replaced floor joists, installed new cabinets, and painted the entire library. The crew emptied the Genealogy Room so new carpet could be installed in there as well.
County Historian Jessie Ruth Tiller, Genealogy Records Supervisor Michelle Pounders and Historical Society members organized and shelved everything in the Genealogy Room. Every thing in the children's section of the library had to be moved to make way for the genealogy records, so the carpeting could be laid in there first, then moved back before any sorting and reorganizing could be done. Michelle has been busy putting everything in order in the Genealogy Room and, according to her mother Carol Pounders, she has worked mostly alone on this especially difficult project due to the nature of historical materials. It was a daunting ordeal. The Genealogy Room re-opened a couple of weeks after the library re-opened.
After the new carpet and plank flooring were installed in the library, the trusties brought everything back to the library from the Community Center. They installed toilets, shelving, computers, and furnishings. Then, they organized and shelved 6,000 DVDs. Friends of the Library Rita Baker, Christine Buckingham, Johnnia Elkins, and Terri Heath organized and shelved 21,000 books. In addition, Lewis County Librarians Crystal Nash and Jaimee Troutt traveled to Perry County to assist in the efforts.
According to Library Director Gail Spragins, "It was a real community effort. So many people stopped by to pack and load boxes of books. They offered encouragement and supplies. We really appreciate everything and look forward to seeing you at the library again."