Meet the
Lobelville Library Team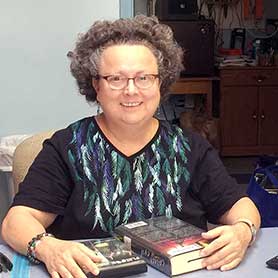 Nan Garrett
Nan Garrett comes to the Lobelville Library after serving at the Linden Library as library assistant and really knows how to help library patrons find just what they need. Be sure to come by and say welcome!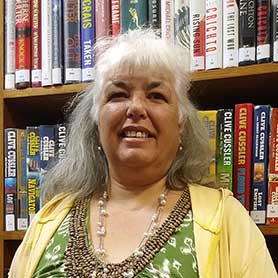 Pinky Taylor
Pinky comes to the Lobelville Public Library with 25 years' experience in customer service, including guest services, story-telling, crafting, and children's programs. Come by and meet Pinky!
Lobelville Library News
In 2019, the Lobelville Library welcomed Ms. Nan Garrett as its new Branch Manager. Ms. Garrett has many years experience working in the public library setting as well as extensive management experience. She holds two degrees, is very skilled with computer technology, and has grant-writing experience. In addition, Ms. Garrett has managed library programs for children and has conducted skills training on a variety of computer-related topics.

Find YOUR Fun at the Lobelville Library
Lobelville is proud of its current location in the Lobelville City Hall municipal building on Main St. Before moving to the this beautiful location, the library was located on a side street, in a building where it had run out of room and so welcomed an opportunity to move to another facility.

With a large population of home schoolers, more room was needed for computer stations and a space for the children of their own, not to mention more room for books and movies! Thanks to this excellent space, the Lobelville Library is able to provide more programs for everyone, young and old. The Friends of the Lobelville Library was formed after the move, and supports the library with its own programs and fund raisers.
Library Programs/Events
The Lobelville Library Tiny Tots program is held throughout the month, please review the calendar for specific dates and times.
Generally, this program is appropriate for toddlers and preschoolers.

The Lobelville Library Club Chaos program is held throughout the month, please review the calendar for specific dates and times. Generally, this program is appropriate for older kids aged 10 and over. Younger children who are mature and can sit and learn and work on projects independently are invited.

Occasionally, the Lobelville Library hosts a family movie night. Generally, these movies are rated G or PG, but call to confirm. These movies are free and open to the public. Free drinks and popcorn are also served.
Always be sure to check the Calendar of Events page (button below) for any changes to this schedule, including days the Lobelville Library is closed.
---

Lobelville Friends of the Library
President: Lewis Bindschusz
Treasurer: Erin McNulty
Email address: LobelvilleFOL@gmail.com
Lobelville Library Gallery
If you can't get here, you can still find out what happened. But we still want to see you so come by when you can.
Sample Heading 1
You Never Know What
You'll Find at the Library...
Reading can take you to lands far away and can inspire you to reach for the stars. What are you reaching for today?
I love how its really easy design our page and how its not a complicated service to use. You can change the color or set the background and put text anywhere with just one click. After creating, the website looks so good and everything is perfect.
It's been a blast working with the guys behind Lorem right from the get go. They know their stuff and I can't wait to start a new project together.
We give you complete control over each content block. Create, edit and assign custom content with ease.