"The Coon Hunter"
Ellen McGowan, Sculptor
"In my work I have always sought to capture both the poignancy and the humor that characterize the human experience."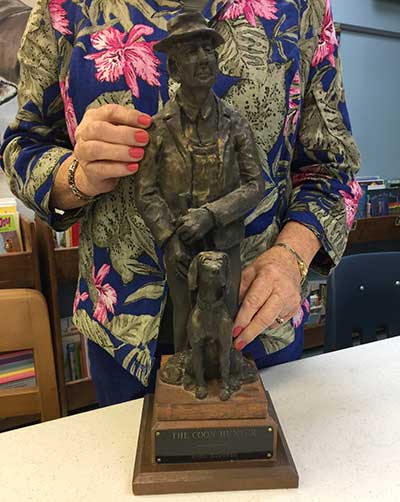 Here, Ellen McGowan's sculpture, "The Coon Hunter," depicts her Cotton Branch neighbor on a coon hunting adventure. This piece, along with others she has created, displays her talent for capturing ordinary moments as people go about their lives.
In 1965 Ellen and her husband, Robert W. McGowan, purchased 100 acres on Cotton Branch in Perry County, TN. They built a home and in 1981. Dr. McGowan retired from Memphis State University where he had been a professor of biology and she had been a public school art and music teacher.
Living in a small town suited the McGowans and soon both became involved with the community. He wrote a column for the Buffalo River Review and she had a studio built where she could continue her art, music, sculpting and "people watching." The clay that was readily available along the creek at her home was the perfect medium allowing her to capture and preserve her impressions and memories.
Ellen created two sculptures she called "The Coon Hunter". One was used to help raise funds for the Perry County Historical Society Genealogy Room that was being added to the public library in Linden. The second one she donated to the library to remain on permanent display.
Another sculpture she created in 1998 was entitled "The Quilter" and is proudly displayed in the Perry County Senior Citizens Quilting Room at the Azbill Community Center.