Meet the
Lobelville Library Team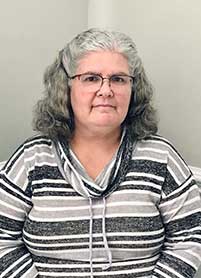 Kathy Gammon
LOBELVILLE BRANCH MANAGER
Kathy comes to the Lobelville Public Library after working at the library in Linden. She brings many years' experience conducting children's programs. In addition, she has over a decade of retail experience, including both customer service and management.


Raechel Tincher
Raechel comes to the Lobelville Public Library after volunteering at both libraries in Perry County. She has decades of experience in customer service, in addition to management experience and computer skills. She is an avid reader with many favorite authors.
Lobelville Library News
Please come by the library to meet Kathy Gammon, our new Branch Manager. Kathy has experience working part-time at both of the libraries in Perry County. Kathy brings many years of experience serving customers and managing employees. She has worked with children's programming for many decades.

---
Find YOUR Fun at the Lobelville Library
Lobelville is proud of its current location in the Lobelville City Hall municipal building on Main St. Before moving to the this beautiful location, the library was located on a side street, in a building where it had run out of room and so welcomed an opportunity to move to another facility.

With a large population of home schoolers, more room was needed for computer stations and a space for the children of their own, not to mention more room for books and movies! Thanks to this excellent space, the Lobelville Library is able to provide more programs for everyone, young and old. The Friends of the Lobelville Library was formed after the move, and supports the library with its own programs and fund raisers.
Library Programs/Events
The Lobelville Library Tiny Tots program is held periodically, please review the calendar for specific dates and times.
Generally, this program is appropriate for toddlers and preschoolers.

The Lobelville Library Club Chaos is held on occasion, please review the calendar for specific dates and times. Generally, this program is appropriate for older kids aged 10 and over. Younger children who are mature and can sit and learn and work on projects independently are invited.

Occasionally, the Lobelville Library hosts a family movie night. Generally, these movies are rated G or PG, but call to confirm. These movies are free and open to the public. Free drinks and popcorn are also served.
Always be sure to check the Calendar of Events page (button below) for any changes to this schedule, including days the Lobelville Library is closed.
---

Lobelville Friends of the Library
President: Lewis Bindschusz
Treasurer: Erin McNulty
Email address: LobelvilleFOL@gmail.com