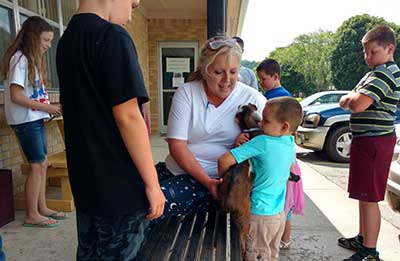 The Summer Reading Program at the Library in Linden continued Wednesday June 19 with stories, treats and baby goats. With a theme of "A Universe of Stories," this program was led by Donna Roberts and her helpers, Haley and Claudia.
Donna read two books, then led the children in a scavenger hunt where the children found a list of items from one of the books. Finally, the children met two baby goats, one of them only 2 weeks old.
On Wednesday July 3, the program will feature Barry Mitchell, a nationally-recognized children's entertainer and magician. He will present his hilarious program, Aliens, Astronauts and a Turtle!
The July 10th program will include a hands-on session with an interactive NASA STEM kit, learning more about the Sun-Earth-Moon connections.
The Summer Reading Program will close on July 17th with another NASA STEM kit, this one is about being a NASA Detective. Reading prizes and gifts will be awarded.
Parents, bring the kids to the Summer Reading Programs at the library in Linden on Wednesdays at 2:30 PM. Mark your calendars now and make plans to attend.