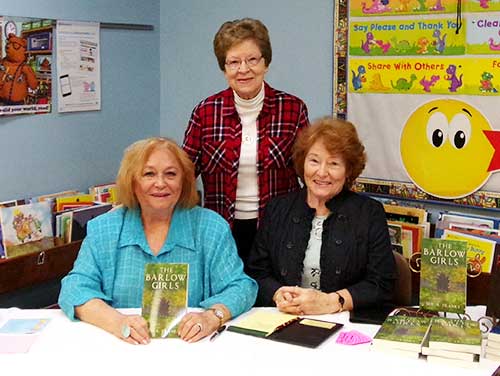 Resident author and artist Sue Franks was at the Linden Library on Saturday, April 13, signing copies of her latest book, "The Barlow Girls." We were so happy to host her book signing so those who wished to get an autographed copy could do so. Amazon's synopsis of the book:
Logan County Tennessee residents are stunned by the discovery of two long- buried corpses found in an old abandoned root cellar on the property of two elderly twin sisters, Josephine and Maurine Barlow. Known affectionately as the Barlow girls, but referred to as Miss Jo and Miss Mo, because of their youthful and sometimes shady escapades, the ladies refuse to reveal what they know, regarding the grisly remains. Suspected of murder, it's up to Sheriff Dan Parks to unravel the Barlow family's secrets. His close relationship to the Barlow girls hinders his investigation as he tries to unravel a decades old mystery, while keeping the TBI and the national media at bay.
Sue draws her inspiration from our community where she grew up and has spent many years. "I love my characters. The Barlow Girls is a mystery wrapped in loyalty, love, compassion, and humor. I thank all of you who have read it and appreciate your letting me know how much you enjoyed it," said Franks. Her latest book follows some of the same characters she introduced to us in her books "Barker's Pond" and "Do Gooders."
Many thanks go to Betty Barber and Johnnia Elkins for providing refreshments and planning this special event for all of us to meet Sue and get an autographed book.
You can order a copy of The Barlow Girls at Amazon.com.