Tennessee's First Lady Chrissy Haslam issued the challenge and nine-year-old Emma Rose accepted.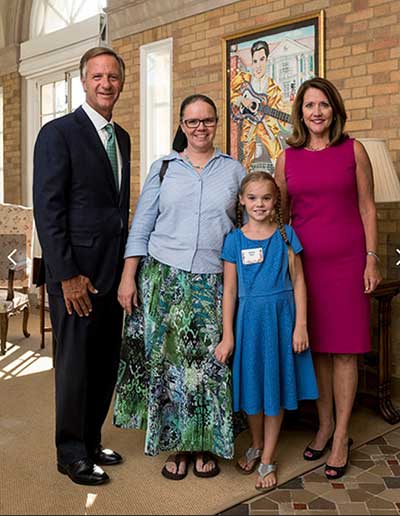 The First Lady's Statewide Reading Competition was a free, summer-long literacy challenge designed to motivate children to read more books and visit their local library over the break.
The competition was aimed at early readers, from rising kindergarteners to fourth grade students who tracked their number of minutes read from June 1 to July 28 for Tennessee's Top 100 Summer Readers distinction.
According to Library Director Gail Spragins, "Emma's log showed that she read for seven hours and thirty-nine minutes and completed more than twenty books. That's very impressive for a nine-year-old reader."
As one of Tennessee's Top 100 Summer Readers, Emma was invited, along with the other top honorees, tp the Tennessee Residence in Nashville for the Kids State Dinner, an evening of celebratory festivities to reward the readers' hard work.
"The First Lady's contest really motivated Emma to read during the summer. She started reading for only two minutes at a time and quickly increased to twenty minutes per session," stated Dixie Rose, who encouraged her daughter and will accompany Emma to the celebration Friday.
Nine-year-old Emma Rose and her mother, Dixie Rose, are pictured with Governor and First Lady Haslam at last month's Kids State Dinner celebrating the Top 100 Readers from the First Lady's Statewide Summer Reading Competition. Emma entered the competition and earned a spot among the Top 100 Readers. Congratulations to Emma and her dedication to reading and earning the title of one of the top 100 readers in Tennessee this year!
As one of the winners, Emma was invited to the celebratory Kids State Dinner at the Tennessee Residence in Nashville, along with her mother. All students received a tour of the State Mansion, and Emma even met Governor Haslam, who signed her program.
Watch for information about the First Lady's Statewide Summer Reading Competition next summer. Dates and library information will be posted on the website and in the local newspaper, as well as at each library in Perry County.